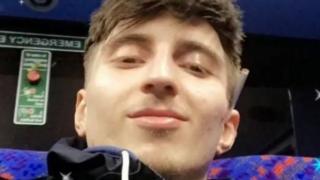 A 22-year-old who stabbed a man, then hid in a London mosque which was stormed by police, has been found guilty of manslaughter.
Kamal Hussain, of no fixed abode, fled to London Central Mosque after killing 25-year-old Zahir Visiter on 28 March.
He was questioned by police while there but released as he had changed clothes.
An Old Bailey jury found him guilty of manslaughter but acquitted him of murder. Yosef Ahmed, 18, of Lorne Close was cleared of murder and manslaughter.
Mr Visiter died in hospital about an hour after he was found fatally stabbed in Cunningham Place, Maida Vale, at 18:15 GMT.
The jury heard he had left his home in nearby Hucknall Court with £280 to give to an unnamed person.
The money was missing when he was searched by police.
After descriptions of the suspects were circulated, two plain-clothes officers chased two men along a towpath.
PC Thomas Wharburton said he then lost sight of the pair but learned over the radio that they had run into the mosque in Regent's Park.
The officer told jurors he came across two men at the mosque who were both wearing T-shirts and jogging bottoms which were rolled up "to appear like shorts".
When asked by prosecutor James Mulholland QC whether they were not detained as "neither matched the appearance of the individuals you were seeking", PC Warburton replied: "That's correct."
The officer said when he saw the clothing which had been discarded he was "certain" it was the same as that worn by the men who he chased.
Jurors have been told the two suspects discarded hoodies and other distinctive items they knew would identify them.
Det Sgt Gary Royal said: "What exactly led to this brutal stabbing may never be known for sure.
"What can be said is that this appears to have been a planned and brutal attack and the wounds to Zahir were found to have been delivered with considerable force."